Providential Examples in History - the Third Millennium
"God knows the meaning of history better than historians do because history is 'his story.' He is its Author and we are its characters. It is true that human free choice moves history, but so does God … moves the plot."
— Peter Kreeft (1937) Professor, and Christian Author
Providential Examples in History ⇨
Miracle of Chirattakonam, India - 2001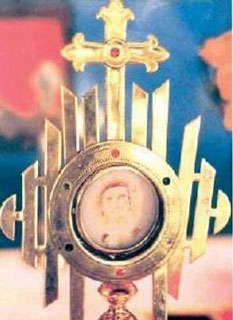 This Eucharistic miracle was verified recently, on May 5,2001 in Trivandrum, India. In the Host there appeared the likeness of a man similar to that of Christ crowned with thorns. His Beatitude CyrilMar Baselice, Archbishop of the diocese of Trivandrum, wrote regarding this prodigy:"[…] For us believers what we have seen is something that we have always believed […].If our Lord is speaking to us by giving us this sign, it certainly needs a response from us". The monstrance containing the miraculous Host is to this day kept in the church. (from the website the Real Presence of Christ)
The "Great Asian Tsunami" - 2004
While thousands on the nearby beach and adjacent buildings died during the recent tsunami, 2,000 attending Mass inside the church itself "miraculously survived" (in the words of an official shrine statement) when — as we earlier reported — the tsunami's waves, rising as high as forty feet, smashed homes and hotels on the same elevation, but spared the shrine. "It was not damaged or anything," says Father Xavier. "It did not even touch the steps of the shrine."
He describes what occurred there as "something that is Divine providence."
The Third Great Awakening ~2001-?
Apparition In Nigeria - THE MESSAGE OF OUR LADY OF AOKPE MEDIATRIX - 2004
One speaks here of serial apparitions in Aokpe in Nigeria which began, it is alleged, by the young female, Christiana Agbo, at the time 12, in October of 1992.
Christiana was collecting herbs in the fields, says a website, Miracle Hunter, when the girl saw flashes of light. "After the first signs of light, she saw a beautiful woman floating in the sky," we are told. "The Virgin looked and smiled without saying a word, was standing on the clouds, had a dress with a veil of shining a blue color that covered her head and fell down her back and shoulders, hands clasped on her chest and clutching a rosary." (from Spirit Daily)
Donald Trump takes the Oath of Office
Three Days of Darkness - (no date)
Robertson: Crack In Washington Monument A Sign From God - 2011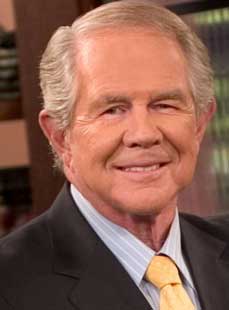 "Ladies and gentlemen I don't want to get weird on this so please take it for what it's worth. But it seems to me the Washington Monument is a symbol of America's power, it has been the symbol of our great nation, we look at that monument and say this is one nation under God. Now there's a crack in it, there's a crack in it and it's closed up. Is that a sign from the Lord? Is that something that has significance or is it just result of an earthquake? You judge, but I just want to bring that to your attention. It seems to me symbolic. When Jesus was crucified and when he died the curtain in the Temple was rent from top to bottom and there was a tear and it was extremely symbolic, is this symbolic? You judge."
God Rejects the National Cathedral's Stand on Gay Marriage?
Donald Trump moves the US Embassy move to Jerusalem - Has he 'Fufilled Biblical Prophecy' ? - 2028
Donald Trump issued a Presidential Proclamation recognizing Jerusalem as the capital of the State of Israel moved the United States embassy from Tel Aviv to Jerusalem.
On May 14, 2018, the embassy in Jerusalem was officially opened recognizing Jerusalem as Israel's rightful capital. It was exactly on the same day 70 years earlier that President Truman recognized Israel as an independent country, making the United States the first nation to do so.
Revival is Here! ~June 2020
In the middle of the year of the Covid pandemic breaks forth in revival, to follow a resurrection year of new life. In early June of 2020 pastors, ministers, and congregants gathered to pray on the streets of Minneapolis where George Floyd was killed during a police arrest. During the public baptism ceremony the move of the Holy Spirit was noted. Minister Joshua Giles wrote on Facebook, "Baptizing people that just got saved on the streets of Minneapolis where George Floyd was killed!! Glory to God."
Giles moved to the area from North Carolina seven years earlier at the direction of God. He was told, "Something is going happen here in Minneapolis that is going spark revival that will go throughout the nation." At the time this made no sense, but at the public baptism ceremony became clear. He wrote, "These testimonies of the saving power of JESUS CHRIST are going all around the world. Glory to GOD!!! The revival is spreading!!"
"Since that tragedy with George Floyd, there was a moment in prayer where the Holy Spirit said to me that now it's time to shift into revival."6 While some would use the death of George Floyd to divide the nation, to loot, burn, and forward a marxist agenda. God would use the tragedy for good to birth a national and worldwide Revival.
At Corona Del Mar State Beach in Newport Beach, California pastor Gina Gleason observed it was remarkable that 1,000 people showed up to be baptized. He stated that "California may be experiencing a spiritual revival."
In series of revival events hosted by Sean Feucht across the country in Nashville, Tennessee 10,000 gathered. Sean Feucht and Dr. Charles Karuku held at outdoor revival meetings in New Jersey, New York, and Massachusetts. One headline stated "Revival is sweeping across New Jersey, New York City, and Boston."  The move of God shaking the East Coast garnered limed coverage by secular media reported on those not wearing masks and adherence to socially distancing rules.
In Bakersfied, California Pastor Mario Murillo responded after his tent worship meetings stated the ground is moving in California and this isn't an earthquake this is a righteous tremor.
There was a moment in the service where the power of God fell on the crowd and a roar came out of them. Of course, I have heard many roars in many rallies, but this was different. This was a cry so deep and so real that the people became one voice, with one passion. I kept waiting for the roar to subside, but it did not. I kept thinking this will level off, but it did not. I believe it is a sign of big things to come. … On Friday night in the tent, I saw the power of a people who can and will, by the power of Almighty God, accomplish the impossible.
Third Great Awakening - 2022
The Third Great Awakening birth by God in the United States, soon sweeps around the world.
More added shortly. ….
…
Providential Examples in History ⇨